Events
Museums & Podiums
Working in a museum, for a venue staging artists, a position in a theatre or for a festival… it is an exiting dream for many Humanities students! And a lot of our alumn do end up in this field indeed. In this Your Perspective session alumn will tell about their jobs, the tasks of their collegues, the connection they see with your Humanities-background and -skills, they will give you tips and tricks (and since you can meet them: a possible network!) and you can ask them any question you have regarding the field of museums and podiums!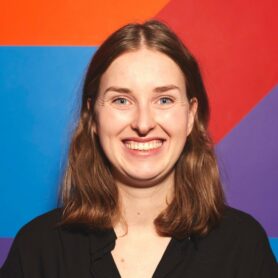 Renée Volkers is working as a Assistant Curator at Kunstmuseum Den Haag. She started the Art History bachelor at Utrecht University and received her master's degree in Art History in 2019, specialising in interwar modernism and Surrealist art. Her master's thesis investigated the appropriation of so-called "primitive" sculpture in Surrealism through notions of Otherness. During an internship at Museum Booijmans van Beuningen (Rotterdam) she performed provenance research for the collection of Modern Art that was acquired by the museum between 1933-1954 and was the editorial assistant for the catalogue of the museum's Surrealism collection. She was an assistant for the "Gothic Modernisms" conference at the Rijksmuseum (Amsterdam). She has previously worked as a research intern and Curatorial Assistant at Museum Ludwig (Cologne), as a coordinator for business events and visitor's services at the National Railway Museum (Utrecht), and as a coordinator for Museum House Van Ravesteyn (Utrecht, Hendrick de Keyser foundation).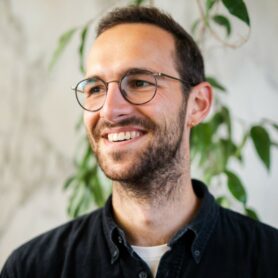 Cees Martens is a Programmer & Producer in the cultural sector and is currently working freelance for Freaky Dancing Festival, and the Nederlands Instituut voor Beeld & Geluid. Previously he worked for Le Guess Who?, Wonderfeel, Gaudeamus, Motel Mozaïque, Stadsschouwburg Utrecht, Grasnapolsky, NFF (Dutch Film Festival) and a lot more! Positions: volunteer-coordinator, programmer, producer, event/premiere-coordinator, etc. If there is anyone who can tell you what jobs you can do at podiums & festivals… its Cees! Cees studied Language & Culture Studies with a major in Modern Art and minor in Esthetics, did an internship for the Stadsschouwburg Amsterdam and an internship for Imagine Film Festival (whilst writing a thesis!). He also did  a lot of volunteering (Into The Great Wide Open Festival, EKKO, de Beschaving, Affordable Art Fair, and the list goes on!)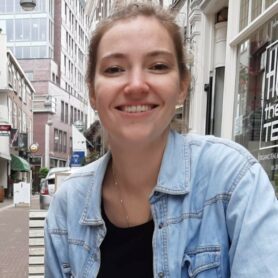 Lise Claerhoudt is currently working as Producer of  Exhibitions at Museum Speelklok. She has worked on the exhibitions "Straatbeeld" (Street scene) and "Robots love Music", and was also responsible for the mobile museum "Speelklok Roadshow". Last year she managed the project group, created the project plan, applied for funds, she project-managed, budgeted and monitored, and wrote texts for the exhibition "Toeval bestaat niet" (Coincidence doesn't exist) and adjoining exhibition catalogue. Previously, as Research & Collection Staff Member at the Airborne Museum she wrote audio texts, scripts for informative videos, coordinated volunteers in developing educational programmes and collected visual material. And before that she worked as a Research and Registration Trainee at the Dutch Railway Museum and did research, photo collection and textwriting for the exhibitions "Sporen van Smaragd" (Traces of Emerald) and "Treinen door de Tijd" (Trains through time). Apart from her museum experience she also organised "Utrecht Zingt" for ZIMIHC and as trainee for "Kennis en Debat" (Knowledge and Debate) at TivoliVredenburg she was co-responsible for content of events, background research, contacting possible speakers and marketing and communication. Lise studied the bachelor Language and Culture Studies (with a focus on Modern Art, Culture and History), followed by the master Cultural History of Modern Europe at Utrecht University and the master Public History at the University of Amsterdam.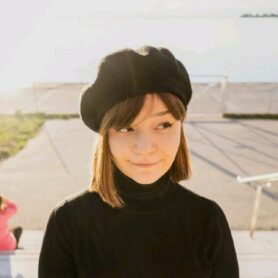 Nickie Katrantsioti will start a position as volunteer coordinator at IDFA in July! She almost graduated from the research master Media, Art and Performance Studies and holds a bachelor in English Language and Literature from Thessaloniki University. She interned as a Volunteer Coordinator for IMPAKT Festival 2021: Modern Love (or Love in the Age of Cold Intimacies). In addition, she was a member of the Research Team for the 2021 IMPAKT Festival which included finding films, performances and keynote speakers that would fit the theme of the festival. During this time, she also worked as Marketing and Public Relations assistant, Curator and Programme Production for IMPAKT Channel for which she curated a channel launch called "The Pornographic Kaleidoscope", in which she explored pornography as an everchanging medium that follows the course of human evolution. Nickie will join the panel as an international almost-alumn who managed to get a job in the field!
Do you want to work or volenteer in a museum in the province of Utrecht? Have a look here: https://www.landschaperfgoedutrecht.nl/erfgoed/musea/ or here: https://www.erfgoedvrijwilliger.nl
Questions? Contact Marleen Schans: m.l.schans@uu.nl.